General Info & Hosting Overview Signup Now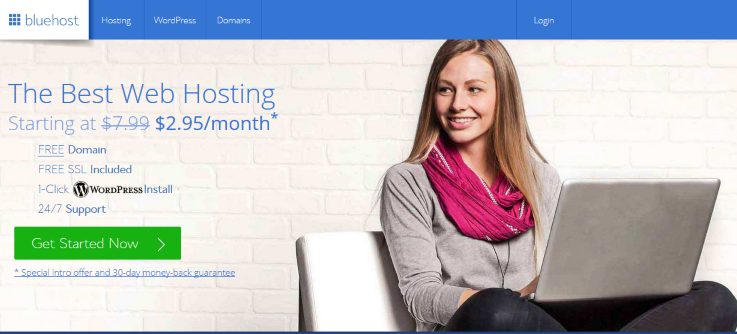 | | |
| --- | --- |
| OUR VERDICT: | Best Overall Shared Hosting |
| SPEED: | 405 ms (February 2018 to January 2020 average) |
| UPTIME: | 99.99% (February 2018 to January 2020 average) |
| SUPPORT: | 24/7 Live Chat |
| APPS: | WordPress, Joomla, Drupal, and some website builders |
| FEATURES: | Unmetered bandwidth and storage, email accounts, free domain 1st year |
| HOSTING PLANS: | Shared, Cloud, VPS, and Dedicated Servers |
| SITE TRANSFER: | Not free |
| PRICING: | Starting at $2.75/mo (renews at $7.99/mo) |
General Info & Hosting Overview
We've been a paying Bluehost web hosting customer throughout 2017 – 2020.
That means we've been monitoring their cheapest "basic" shared hosting plan performance (both average load time and uptime) for 3+ years.
This Bluehost review relies heavily on data, as well as the overall experience with their hosting features and customer support.
In a nutshell, all Bluehost plans offer their customers 24/7 live chat, unmetered bandwidth, and five email accounts. Similarly to many other website hosting companies, they too offer their new users a free domain for the first year. Their plans start from $2.75/mo and include improved security, backups, and free SSL certificate. These help to keep your blog or website protected and safe.
Overall, their last 24-month performance has been good. Bluehost is clearly at the top with its uptime (99.99%) and a fast load time of 405ms (0.4 seconds).
Pros of Using Bluehost Hosting
1. Best Uptime – 99.99% – Throughout the Year
Uptime is one the most important aspects when choosing a web host – after all, if your site is down, your users can't access it. So consistently good uptime should be one of your top priorities.
After reviewing 30 web hosts, our benchmark for "good" uptime is 99.93%. That might seem pretty high, but it's actually even slightly below average. Type those numbers into a calculator, and you'll quickly see it translates into at least 26 minutes of downtime each month or just over five hours over the course of a year.
So ideally, we don't want to see anything less than that.
The good news is that Bluehost easily surpasses this benchmark, comfortably keeping our test site live for 99.99% of the time during the last 24 months (2018-2020).
Here's the monthly breakdown of the past 12-months:
January 2020 average uptime: 100%
December 2019 average uptime: 100%
November 2019 average uptime: 100%
October 2019 average uptime: 99.96%
September 2019 average uptime: 99.99%
August 2019 average uptime: 99.99%
July 2019 average uptime: 100%
June 2019 average uptime: 99.98%
May 2019 average uptime: 100%
April 2019 average uptime: 100%
March 2019 average uptime: 99.99%
February 2019 average uptime: 100%
Bluehost Review from Our Experts
Bluehost is one of the biggest web hosting companies in the world and an official WordPress recommended hosting provider. Bluehost offers a wide variety of hosting plans for beginners to larger businesses with a 24/7 customer support. See the complete Bluehost review by our experts to find out if Bluehost is the right choice for you.
In this complete Bluehost review, we will put their promises to test. These are the areas we will look into:
Performance: How fast will your website load with Bluehost? We will test their speed and server response time to assess that.
Reliability: Will your website be available 24/7/365 without any downtime?
Customer Support: Can you count on their technical support as a customer?
Features: Do they offer all the features you will need to build your website?
Pricing: Do they have the best pricing in the industry? Are there any Bluehost deals that can save you money?
Bottom line: Don't want to read all the details? Let us give it to you straight. In our Bluehost review, we found them to be reliable, fast, and affordable with friendly 24/7 customer support.