Russian lawmakers have proposed new laws that seek to ban the use of bitcoin (BTC) and other cryptocurrencies in the country, local media reported.
According to draft bills submitted by a group of deputies to the Russian parliament recently, individuals may face up to seven years in prison and fines of up to $7,000 for using BTC in financial transactions.
People will also be penalized for buying crypto with cash or transferring to accounts opened with Russian banks.
If signed into law, the bills will punish companies that issue or operate virtual currencies without approval from the Russian central bank, with fines of up to two million rubles or about $28,000.
Furthermore, "for violation of the rules for transactions with cryptocurrencies, if they are used as payment for goods or services," companies would have to pay the equivalent of one million rubles ($13,900) and individuals at least 200,000 rubles ($2,800).
The draft bills were lodged with Russia's Ministry of Economic Development earlier this week, says a report published by local news company RBC on May 21. One of the proposed laws plans to completely stop digital assets from being used as a means of payment by citizens or corporations.
People that already hold digital assets will be forced to register them with Russia's tax agency and explain how they acquired them. Another bill proposes to add new sections to the country's criminal law for illegal operations with cryptocurrencies.
Companies that issue or circulate digital financial assets "using sites registered in Russia or technical equipment located in Russia" are especially liable under this second draft proposal.
Penalties may be compounded for both individuals and firms "if major or especially large damage was caused to citizens, organizations or the state, or if these actions led to enrichment on a large or especially large scale."
Local lawyers fear that if these laws are enforced, they will paralyze the Russian cryptocurrency industry. Dmitry Kirillov, a senior tax lawyer at Bryan Cave Leighton Paisner and a teacher at Moscow Digital School, told RBC:
People who currently own cryptocurrencies will be forced to get rid of them before the law comes into force or risk 'going underground.' Goals that will be achieved this way are the direct opposite of what's being declared. In general, the idea of ​​dropping a crypto 'Iron Curtain,' in my opinion, does not contribute to the development of businesses or Russia's interaction with the world economy on a digital level.
Russian Ministry Slams Bill to Ban Crypto — Experts Warn Easy to Bypass, Creates Black Market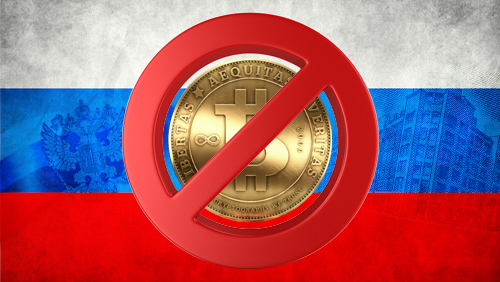 Russia's Ministry of Economic Development has informed parliament of its disapproval of the bill to ban cryptocurrency. Experts say a ban will be ineffective as people can use technology to bypass it, leading to the creation of an "uncontrolled black market."
Russian Ministry Criticizes Bill to Ban Crypto
The Russian Ministry of Economic Development has sent a letter to the State Duma, the lower house of the Federal Assembly of Russia, criticizing the bill that seeks to ban cryptocurrency in the country. Local publication Kommersant reported Wednesday that it has seen the letter.
Russian officials detailed that the bill proposes a complete ban on the issuance and circulation of existing cryptocurrencies in Russia, penalizing legal entities and individual entrepreneurs engaged in these activities. The ministry explained that the existing legislation for cross-border transactions does not protect the rights of cryptocurrency users, asserting that this will push all operations outside Russia, which will lead to losses for the country's economy.
In its letter, the ministry stressed the need to change the text of the bill to provide for "the creation of mechanisms for the controlled circulation of cryptocurrencies." They may include establishing requirements for the issuance and turnover of cryptocurrencies and their operators. Procedures for allowing these operators to carry out crypto-related activities should also be established. The letter continues, "Sub-legislative regulation of this issue is proposed to be attributed to the powers of the government of the Russian Federation (together with the Bank of Russia)."
Anatoly Aksakov, chairman of the State Duma Committee on Financial Market, told Kommersant that he had not yet seen the letter from the Ministry of Economic Development. Nonetheless, he said: "It's good that they criticize, we don't need approval, we need criticism." According to him, the country's central bank, the Bank of Russia, "generally supports the bill with some changes." Public comments on the proposed legislation will be collected until mid-June.
The draft law "On Digital Financial Assets" was adopted in the first reading back in 2018 after long discussions. However, it does not address how existing cryptocurrencies are to be treated, the publication noted. Meanwhile, the central bank has repeatedly spoken out against the circulation of cryptocurrencies in Russia.
Alexander Zhuravlev, chairman of the Commission for Legal Support of the Digital Economy of the Moscow Branch of the Russian Bar Association, commented that "In the context of the crisis of the Russian Federation, one should not give up opportunities, one should choose the right administration, and not a prohibitive approach." He elaborated that "even with the legal prohibition of crypto assets, users will have the opportunity to bypass it through technical means (VPN, etc.)," adding:
The prohibitive approach will not solve the security problem of citizens, but will actually create an uncontrolled black market.
The Director-General of Moscow Digital School, Dmitry Zakharov, believes that Russia already missed a lot of opportunities by not providing a comfortable legal environment for cryptocurrency when it was needed. He emphasized that if this new bill is adopted and cryptocurrencies are banned, Russia will miss out on big opportunities, including substantial revenue loss from taxes and crypto mining. Most importantly, he said the country will lose innovators, entrepreneurs, programmers, and lawyers who work in this sector.
Do you think Russia will ban cryptocurrency? Let us know in the comments section below.